Departure | Arrival | Return
2019
a group exhibition and performance series produced by Lagoon Parliament that took place during the last weekend of January at Kunsthaus KuLe as part of CTM and Transmediale Vorspiel 2019.


The space is transformed into a fictive travel agency playing with alternate concepts of time and metaphorical ideas around place and placelessness. We invite you into a hybrid place between real and fictive atmospheres to encounter a manipulated sense of displacement and abundance.
A series of video works explores the symbolic status and societal roles of one-on-one combat as spectacle. A separate room at the back of the main space is darkened and insulated, it is a cavity that draws visitors into the folds and sounds of the inner body where show and artifice are stripped away to reveal the soft, hidden face under the mask.
The first event (Departure) starts with a festive takeoff evaporating you from familiar ground with concerts and performances. Departure invites you to a harmonious sleepover after which you will awake into the next event (Arrival). Here you will be served a cosmic breakfast, workshops, screenings and performances. The last event (Return) interrogates the notion of customs and whether a return is ever really possible.
Exhibition text
by Theresa Reimann-Dubbers
Credits
Produced by
Lagoon Parliament
at
Kunsthaus KuLe
Guest Artists: Bruno Siegrist, Dovile Aleksaite, Lukas Grundmann, Jacob Eriksen, Felipe Vaz, Kurort Spandau, MOUTH (Katrine Hoffmeyer Tougard and Hugo Esquinca), Mattin, Lugh O´Neil
Photo credits:
Andy King
Graphic design by
Andy King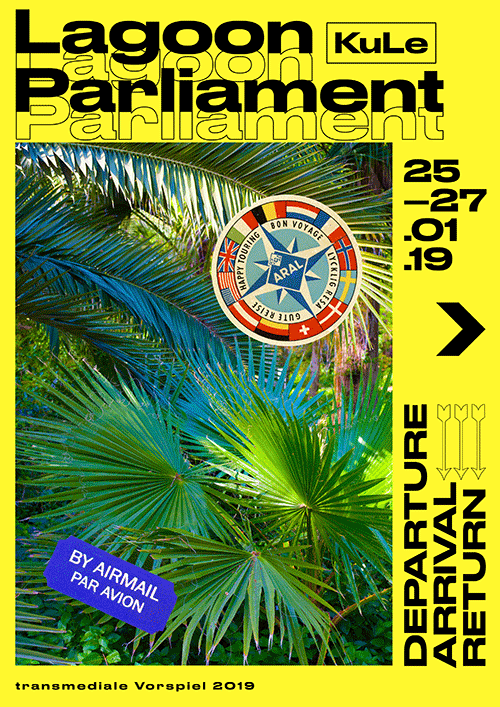 All works and content
© Theresa Reimann-Dubbers 2014 - 2023